New Kia Sorento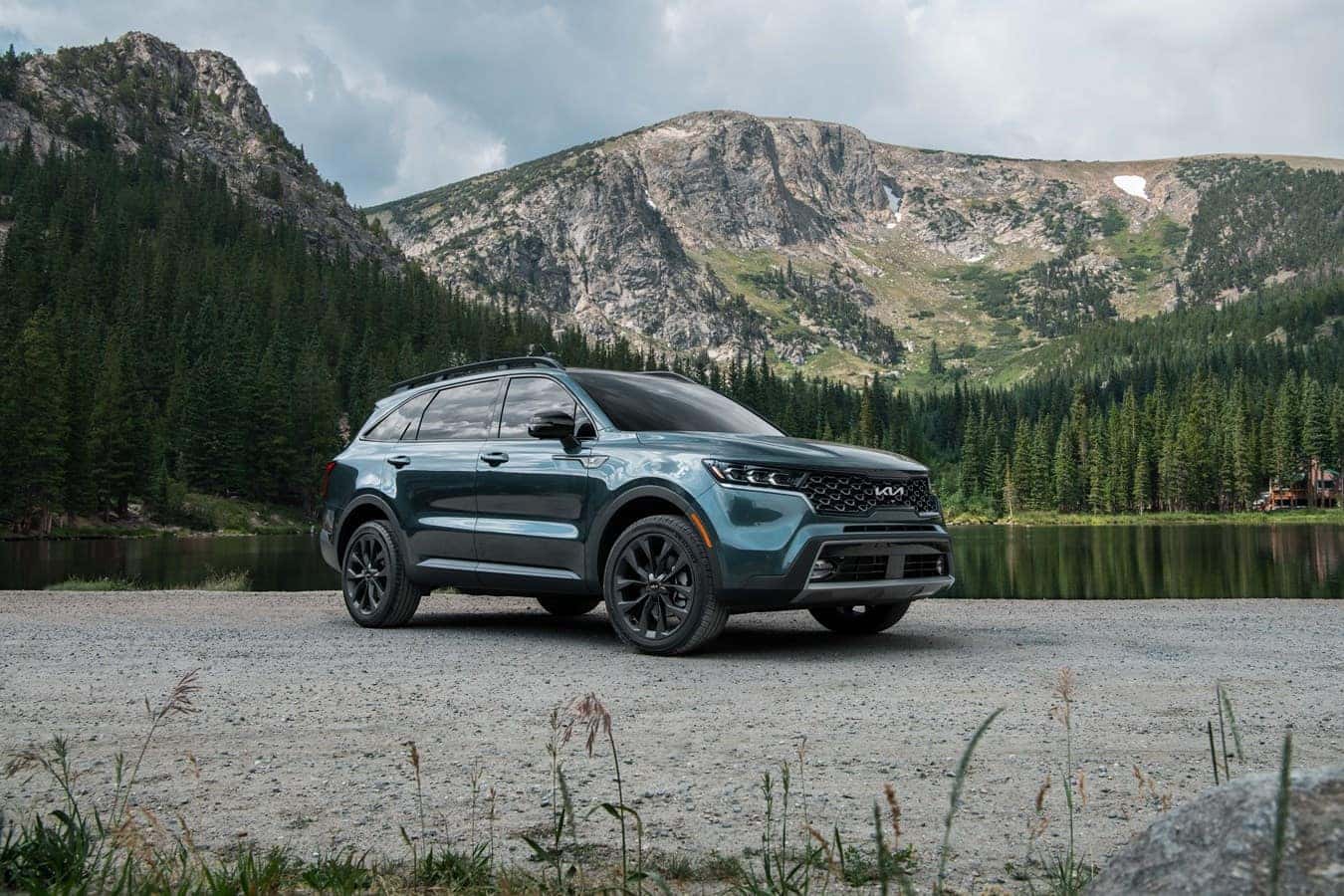 The new Kia Sorento, with available all-wheel drive and an optional turbocharged engine, is a great family vehicle. With three rows of comfortable seating and room for up to seven passengers, your family can enjoy trips to hill country or down to the gulf coast. The Kia Sorento is equally at home around Conroe, with its rugged-looking exterior and sporty interior.
Rugged looking? Sorento is designed to give you and your passengers confidence over every mile. The handsome looks lend to a sense of adventure – from its contemporary face to its sloping roofline. All four doors and liftgate open wide to load your family and your worldly goods for a great drive anywhere you take it.
Sorrento offers seating for up to seven occupants over three rows. Each seat is comfortable for both short rides and longer trips. The driver is in command with an easy-to-read instrument panel while keeping their eyes safely on the road ahead. UVO drives the infotainment system, providing smartphone connectivity with Apple CarPlay® and Android Auto™ mobile devices.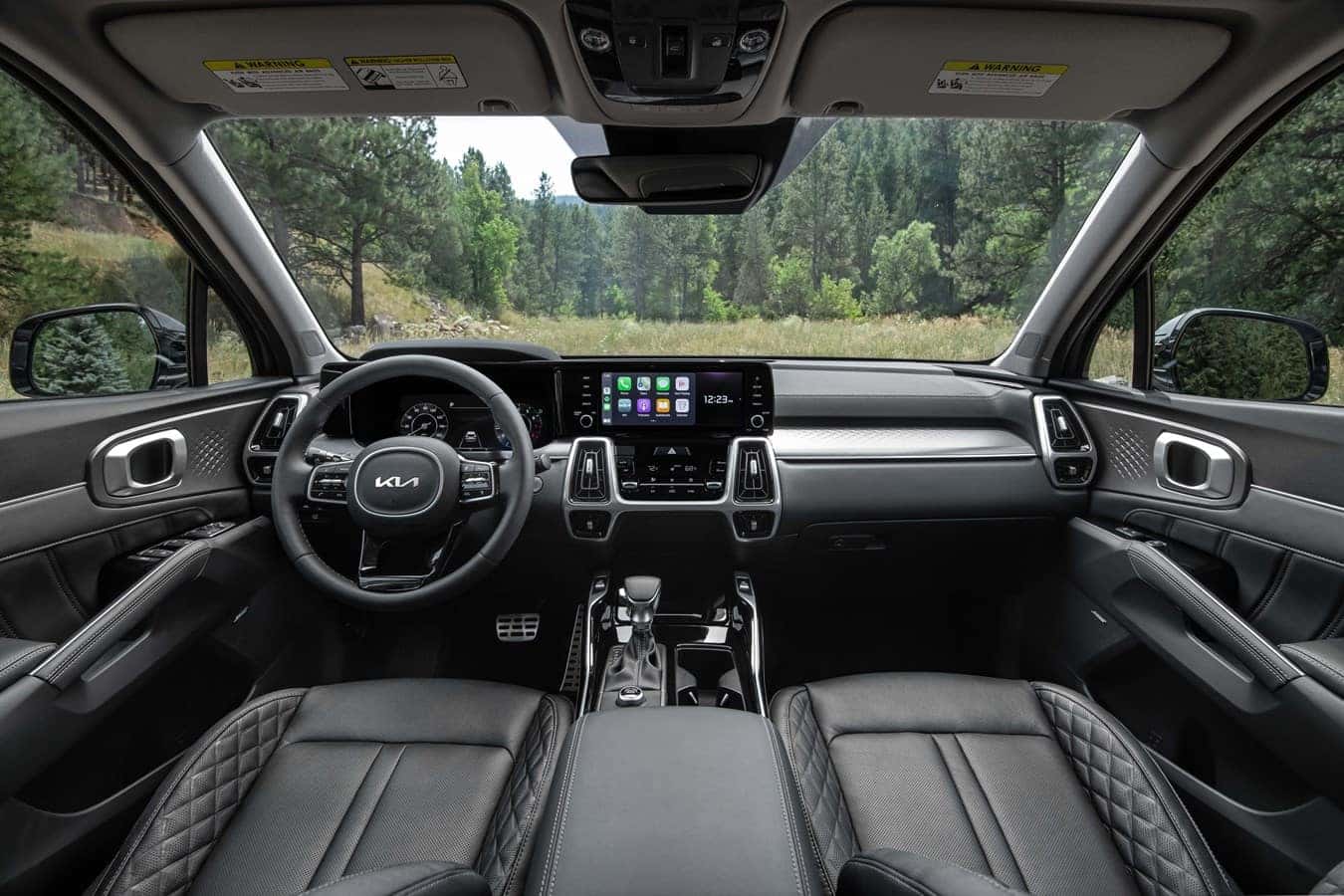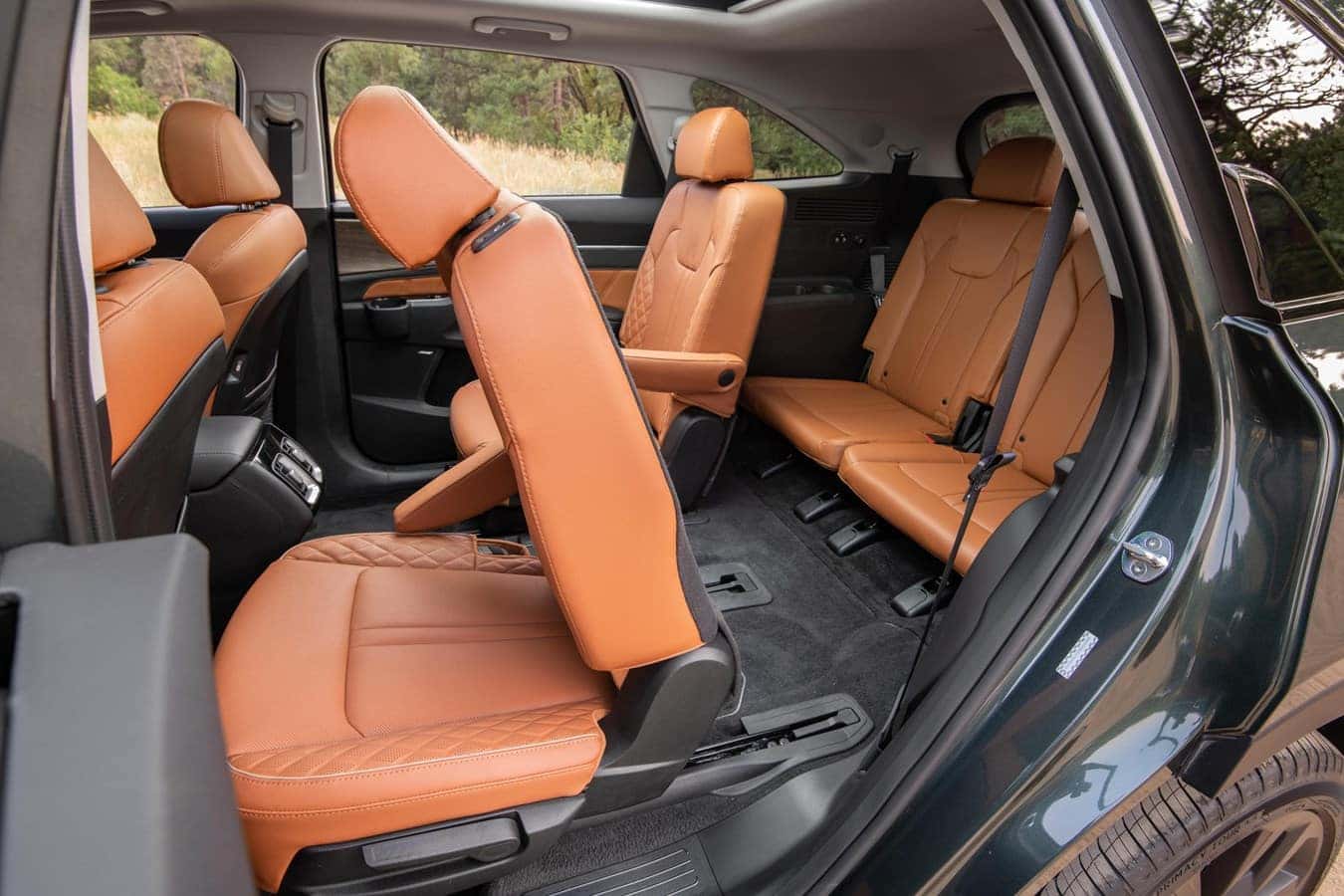 Sorento offers features not available on its competitors, such as the head-up display, power-folding rear seats, and more. Included, a suite of driver assistance technology that helps Sorento avoid what life throws at it. These Drive Wise features include: Blind Spot Collision Avoidance-Assist (BCA), Blind Spot Collision Warning (BCW), Driver Attention Warning (DAW), Forward Collision Avoidance (FCA), w/ Pedestrian Detection, Forward Collision Warning (FCW), Lane Departure Warning (LDW), Lane Keeping Assist (LKA), Rear Cross Traffic Collision Warning (RCCW), Rear Cross-Traffic Collision-Avoidance (RCCA), and Smart Cruise Control with Stop and Go (SCC).
Sorento is offered with a choice of engines. The standard engine is a 191-horsepower 2.5-liter four-cylinder engine, paired to an eight-speed automatic transmission. On select models, a 281-horsepower 2.5-liter four-cylinder turbocharged engine is available, connected to an eight-speed automatic dual-clutch transmission. Also available, a 227-horsepower 4-cylinder turbo hybrid matched with a six-speed automatic transmission, and a 261-horsepower 1.6L -cylinder turbo plug-in hybrid paired with a six-speed automatic transmission. Front-wheel-drive is standard, with the Dynamax all-wheel-drive available on all models.
Sorento is backed by Kia's industry-leading new vehicle warranty that is covered for 5 years or 60,000 miles, along with our Powertrain Warranty that goes up to 10 Years or 100,000 miles.
The key to the new Kia Sorento is its value. Sorrento offers the best value for the money of any vehicle in its class Pricing starts from $29,490.
Come see the new Kia Sorento at Cowboy Kia in Conroe today. Take a drive and discover why Sorrento is one of the best values in its class.

2022 Kia Sorento
LX – starting from $29,490 FWD, $31,290 AWD
Exterior
17-inch alloy wheels

Power adjustable outside mirrors with integrated LED Turn Signals

Heated outside mirrors
Interior
Cloth seat trim

6-way adjustable driver's seat with height adjuster

4-way adjustable passenger's seat

2nd-row 60/40 split-folding seats

3rd-row 50/50 split-folding seats

2nd Row Air Vents

4.2-inch color TFT LCD supervision meter cluster

8-inch Touchscreen Radio, Bluetooth®, Wireless Android Auto® and Apple CarPlay®, and Bluetooth Voice Recognition

6 speakers (including 2 tweeters)

Bluetooth® wireless technology with voice recognition
Safety and Security
Dual front advanced airbags

Dual front seat-mounted side airbags

Driver's knee airbag

Full-length side curtain airbags

Rollover sensor

Rear view camera

Electronic Stability Control (ESC)

Hill-start Assist Control (HAC)

Downhill Brake Control (DBC)

Vehicle Stability Management (VSM)

Rear Occupant Alert with sensor (ROA)

Intelligent Speed Limit Assist (ISLA)

Forward Collision Avoidance Assist; Camera Type: Car and Pedestrian Detection

Driver Attention Warning (DAW)

Lane Keep Assist System (LKAS)

Lane Departure Warning System (LDWS)

Lane Following Assist (LFA)

High Beam Assist (HBA)
Capabilities
191-horsepower 2.5-liter four-cylinder engine

Eight-speed automatic transmission

Available all-wheel drive

24/29/26 MPG City/Highway/Combined FWD

23/25/24 MPG City/Highway/Combined AWD

S – starting from $32,290
Includes LX key features and adds:
Exterior
18-inch alloy wheels

Rear spoiler with Gloss black finish
Interior
Premium Leatherette seat trim

10-way power adjustable driver's seat with 2-way power lumbar support

Heated front seats

Leather wrapped steering wheel and shift knob

Dual zone automatic temperature control

10.25-inch Touchscreen Navigation, Radio, Satellite Radio, UVO telematics, Android Auto™ and Apple CarPlay® and Voice Recognition

Push-button start with Smart Key and remote start button on key fob
Safety and Security
Blind-Spot Collision Avoidance Assist – Rear (BCA-R) and Parallel Exit

Rear Cross-Traffic Collision Avoidance Assist (RCCA)

Parking Distance Warning – Reverse (PDW-R)

Safe Exit Assist (SEA)
Capabilities
191-horsepower 2.5-liter four-cylinder engine

Eight-speed automatic transmission

24/29/26 MPG City/Highway/Combined FWD
X-Line S AWD starting from $34,290
Includes LX key features and adds:
Exterior
18-inch alloy wheels

Available panoramic sunroof with power shade
Interior
Premium Leatherette seat trim

10-way power adjustable driver's seat with 2-way power lumbar support

Heated front seats

Leather wrapped steering wheel and shift knob

Dual zone automatic temperature control

10.25-inch Touchscreen Navigation, Radio, Satellite Radio, UVO telematics, Android Auto™ and Apple CarPlay® and Voice Recognition

Push-button start with Smart Key and remote start button on key fob
Safety and Security
Blind-Spot Collision Avoidance Assist – Rear (BCA-R) and Parallel Exit

Rear Cross-Traffic Collision Avoidance Assist (RCCA)

Parking Distance Warning – Reverse (PDW-R)

Safe Exit Assist (SEA)
Capabilities
191-horsepower 2.5-liter four-cylinder engine

Eight-speed automatic transmission

All-wheel drive

23/25/24 MPG City/Highway/Combined AWD
EX – starting from $35,390
Includes LX key features and adds:
Exterior
18-inch alloy wheels

LED fog lights

Smart Power Tailgate
Interior
Premium Leatherette seat trim

10-way power adjustable driver's seat with 2-way power lumbar support

Heated front seats

2nd-row 50/50 split-folding captain's chairs

Leather wrapped steering wheel and shift knob

Dual zone automatic temperature control

10.25-inch Touchscreen Navigation, Radio, Satellite Radio, UVO telematics, Android Auto™ and Apple CarPlay® and Voice Recognition

Push-button start with Smart Key and remote start button on key fob
Safety and Security
Smart Cruise Control with Stop and Go

Blind-Spot Collision Avoidance Assist – Rear (BCA-R) and Parallel Exit

Rear Cross-Traffic Collision Avoidance Assist (RCCA)

Parking Distance Warning – Reverse (PDW-R)

Safe Exit Assist (SEA)

Forward Collision Avoidance Assist; Fusion Type: Car, Pedestrian and Cyclist

Forward Collision Avoidance Assist, Junction Assist

Highway Driving Assist (HDA)

Electronic Parking Brake (EPB)
Capabilities
281-horsepower 2.5-liter four-cylinder turbocharged engine

Eight-speed dual-clutch automatic transmission
22/29/25 MPG City/Highway/Combined FWD

X-Line EX AWD – starting from $39,090
Includes LX key features and adds:
Exterior
20-inch alloy wheels

LED projector headlamps with Low and High Beams

LED fog lights

Gloss Black roof rails

Rear spoiler with Gloss black finish

Panoramic sunroof with power shade

Smart Power Tailgate
Interior
Premium Leatherette seat trim

10-way power adjustable driver's seat with 2-way power lumbar support

8-way power adjustable passenger's seat

Heated front seats

2nd-row 50/50 split-folding captain's chairs

Leather wrapped steering wheel and shift knob

Dual zone automatic temperature control

10.25-inch Touchscreen Navigation, Radio, Satellite Radio, UVO telematics, Android Auto™ and Apple CarPlay® and Voice Recognition

Wireless phone charger

Push-button start with Smart Key and remote start button on key fob
Safety and Security
Smart Cruise Control with Stop and Go

Blind-Spot Collision Avoidance Assist – Rear (BCA-R) and Parallel Exit

Rear Cross-Traffic Collision Avoidance Assist (RCCA)

Safe Exit Assist (SEA)

Forward Collision Avoidance Assist; Fusion Type: Car, Pedestrian and Cyclist

Forward Collision Avoidance Assist, Junction Assist

Highway Driving Assist (HDA)

Electronic Parking Brake (EPB)
Capabilities
281-horsepower 2.5-liter four-cylinder turbocharged engine

Eight-speed dual-clutch automatic transmission
22/27/24 MPG City/Highway/Combined AWD

SX-P – starting from $41,090
Includes LX key features and adds:
Exterior
20-inch alloy wheels

Gloss Black roof rails

Rear spoiler with Gloss black finish

Panoramic sunroof with power shade

Smart Power Tailgate
Interior
Premium Leatherette seat trim

10-way power adjustable driver's seat with 2-way power lumbar support

10-way power adjustable passenger's seat with 2-way power lumbar support

Heated front seats

2nd-row 50/50 split-folding captain's chairs

Leather wrapped steering wheel and shift knob

Dual zone automatic temperature control

10.25-inch Touchscreen Navigation, Radio, Satellite Radio, UVO telematics, Android Auto™ and Apple CarPlay® and Voice Recognition

Wireless phone charger

Push-button start with Smart Key and remote start button on key fob
Safety and Security
Rear view camera

Smart Cruise Control with Stop and Go

Blind-Spot Collision Avoidance Assist – Rear (BCA-R) and Parallel Exit

Parking Distance Warning – Reverse (PDW-R)

Safe Exit Assist (SEA)

Forward Collision Avoidance Assist; Fusion Type: Car, Pedestrian and Cyclist

Forward Collision Avoidance Assist, Junction Assist

Highway Driving Assist (HDA)
Capabilities
281-horsepower 2.5-liter four-cylinder turbocharged engine

Eight-speed dual-clutch automatic transmission
22/29/25 MPG City/Highway/Combined FWD

SX-P AWD – starting from $43,090
Includes LX key features and adds:
Exterior
20-inch alloy wheels

Rear spoiler with Gloss black finish

Panoramic sunroof with power shade

Smart Power Tailgate
Interior
Perforated Leather seat trim

14-way power driver's seat, including 4-way power lumbar and 2-way power thigh extension

10-way power adjustable passenger seat with 2-way power lumbar support

Heated front and ventilated seats

2nd-row 50/50 split-folding captain's chairs

Leather wrapped steering wheel and shift knob

Heated steering wheel

Dual zone automatic temperature control

12.3-inch color TFT LCD supervision meter cluster

10.25-inch Touchscreen Navigation, Radio, Satellite Radio, UVO telematics, Android Auto™ and Apple CarPlay® and Voice Recognition

Bose surround sound audio system

12 speakers (including center speaker and external amplifier)

Wireless phone charger

Push-button start with Smart Key and remote start button on key fob
Safety and Security
Smart Cruise Control with Stop and Go

Blind-Spot Collision Avoidance Assist – Rear (BCA-R) and Parallel Exit

Rear Cross-Traffic Collision Avoidance Assist (RCCA)

Parking Distance Warning – Reverse (PDW-R)

Parking Collision Avoidance – Rear (PCA-R)

Safe Exit Assist (SEA)

Forward Collision Avoidance Assist; Fusion Type: Car, Pedestrian and Cyclist

Forward Collision Avoidance Assist, Junction Assist

Surround View Monitor (SVM)

Blind View Monitor (BVM)

Highway Driving Assist (HDA)
Capability
281-horsepower 2.5-liter four-cylinder turbocharged engine

Eight-speed dual-clutch automatic transmission
22/27/24 MPG City/Highway/Combined FWD

S HEV – starting from $33,990 FWD
Exterior
17-inch alloy wheels

Rear spoiler with matte black finish
Interior
Premium Leatherette seat trim

10-way power adjustable driver's seat with 2-way power lumbar support

4-way adjustable passenger seat

Heated front seats

2nd-row 50/50 split-folding captain's chairs

3rd-row 50/50 split-folding seats

Leather wrapped steering wheel and gear shift knob
4.3-inch color TFT LCD supervision meter cluster

Dual zone automatic temperature control

2nd Row Air Vents

10.25-inch Touchscreen Navigation, Radio, Satellite Radio, UVO telematics, Android Auto™ and Apple CarPlay® and Voice Recognition

6 speakers (including 2 tweeters)

Bluetooth® wireless technology with voice recognition

Push-button start with Smart Key and remote start button on key fob

Rear view camera
Safety and Security
Dual front advanced airbags

Dual front seat-mounted side airbags

Driver's knee airbag

Full-length side curtain airbags

Rollover sensor

Electronic Stability Control (ESC)

Hill-start Assist Control (HAC)

Downhill Brake Control (DBC)

Vehicle Stability Management (VSM)

Rear Occupant Alert with sensor (ROA)

Blind-Spot Collision Avoidance Assist – Rear (BCA-R)

Rear Cross-Traffic Collision Avoidance Assist (RCCA)

Parking Distance Warning – Reverse (PDW-R)

Safe Exit Assist (SEA)

Intelligent Speed Limit Assist (ISLA)

Forward Collision Avoidance Assist; Camera Type: Car and Pedestrian

Driver Attention Warning (DAW)

Lane Keep Assist System (LKAS)

Lane Departure Warning System (LDWS)
Capability
227-horsepower 4-cylinder turbo hybrid

Six-speed automatic transmission

39 /35 /37 MPG City/Highway/Combined FWD
EX HEV – starting from $35,990 FWD
Includes S HEV key features and adds:
Exterior
LED fog lights

Available Panoramic sunroof with power shade

Rear spoiler with Gloss black finish

Height adjustable Smart Power Tailgate
Interior
Safety and Security
Smart Cruise Control with Stop and Go

Parking distance warning – Front and Reverse (PDW-F&R)

Forward Collision Avoidance Assist; Fusion Type: Car, Pedestrian and Cyclist

Forward Collision Avoidance Assist, Junction Assist
Capability
227-horsepower 4-cylinder turbo hybrid

Six-speed automatic transmission
TBD MPG City/Highway/Combined AWD